Could Your Business Better Utilize Technology?

Five tech tips for today's digital workplace.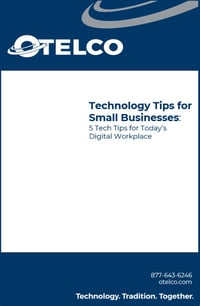 Today's small businesses are not the 'mom and pops' of the past. There's simply no avoiding the benefits of fully embracing today's technology to keep business running smoothly - and better yet - thriving!
This Guide is a round-up of 5 tips that we believe are keys to success:
Embracing Technology
Employing the Cloud
Getting the Most Out of Email
Becoming Mobile
Utilizing Conference Tools
This is a free, no-obligation Guide designed to educate small businesses that are researching innovative technology solutions.